Disiplin
Performans sanatları ve disiplinlerarası
Sanatçı hakkında
Pau(la) Chaves Bonilla aka as La ChicaScratch is a Colombian director, performance artist, mover, writer, and queer migrant grassroots organiser based in Amsterdam. She studied contemporary dance, theatre, and circus in New York, Bogota and Berlin and later obtained a BA in Choreography at the School for New Dance Development in the Amsterdam University of the Arts. Currently she's doing an MA -at the crossroads of ecology, social justice and art- called 'Ecologies of Transformation' at the Sandberg Institute. Her artistic research investigates social phenomena in a journalistic way -censorship and resistance, gender issues, art in a neoliberal-capitalist context- and transforms these findings into theatrical performances. In her works fiction is used as a way to highlight truths often obscure in our contemporary western culture and as a vehicle to imagine and practice alternative ways of living outside of domination and profit oriented logics. Satire, protest, commemoration or denunciation are common forms of expression in the work of Chaves Bonilla. Through them she works with feelings of anger and grief that are often repressed, judged, criminalized or rendered useless in neoliberal society. The aesthetics of her work are manifesto like landscapes mixing elements of speculative imagination, social critique, and magic surrealism. Her works have been presented at Moving Futures Festival (Amsterdam), Theater Aan Zee (Oostende), My Wild Flag (Stockholm), Theater Spektakel (Zürich), Impulstanz (Vienna), CALA Festival (Cori), Welcome to our Guesthouse (Rotterdam), Abundance Chapter – Het Hem (Zaandam), International Queer Migrant Film Festival (Amsterdam) among others. In 2019 Chaves Bonilla was awarded the 3Package Deal fund for International Talents by AFK for the 'engaged art' coalition and in 2020 she became a house artist at Veem House for Performance. Coming from a legacy of political dissidence rooted in her family history, Chaves Bonilla also works as a queer migrant grassroots organiser. Between 2012 and 2016 she was co-organiser of Queeristan – a D.I.Y. Festival in Amsterdam to explore and counter the normative workings of gender, sexuality and identity. In 2020 she co-founded Papaya Kuir a lesbotransfeminist collective using Art to generate a sense of belonging and ignite transformation in the Trans & Queer Latinx Refugee/Migrant community.
2020, PARALEGAL LIMBS, Video, 14'10"
---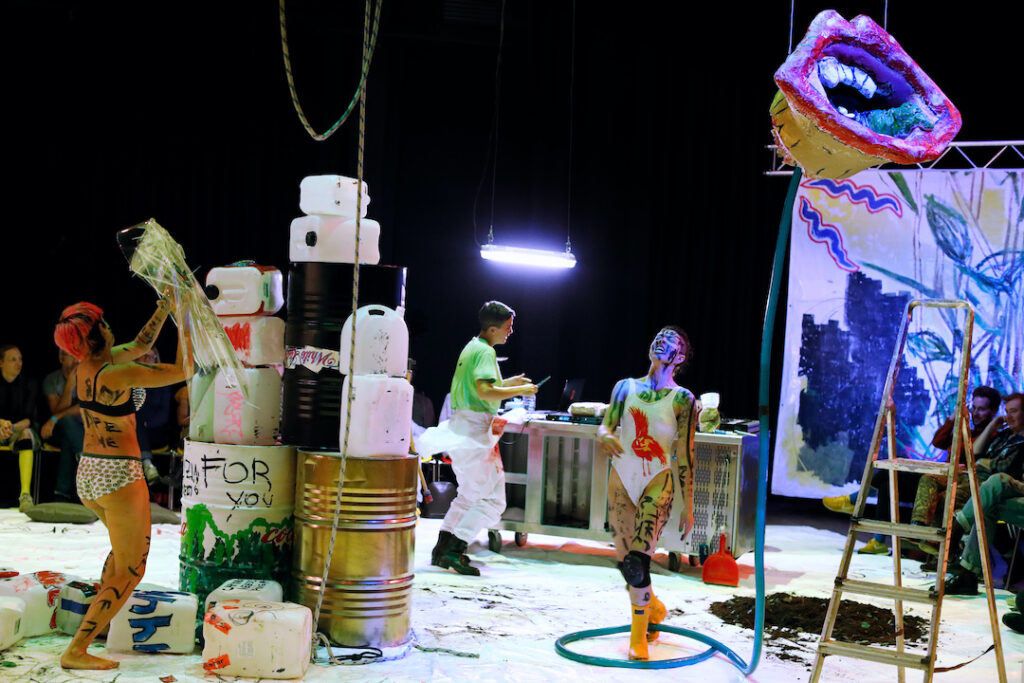 2021, Omni Toxica, Performans, 60′
"Omni Toxica" is a journalistic and forensic performative ritual on the history of Coca and how it passed from being a green, sacred, medicinal plant into a whitewashed, capitalist, toxic product: cocaine. The project borrows strategies from journalism, spiritism, narco culture, alchemy and activism to construct a dystopian laboratory.
Topics: war on drugs, narco-culture, plant stories, south globe narratives, revolt, immersive theatre, queer aesthetics, protest, rap/hip hop.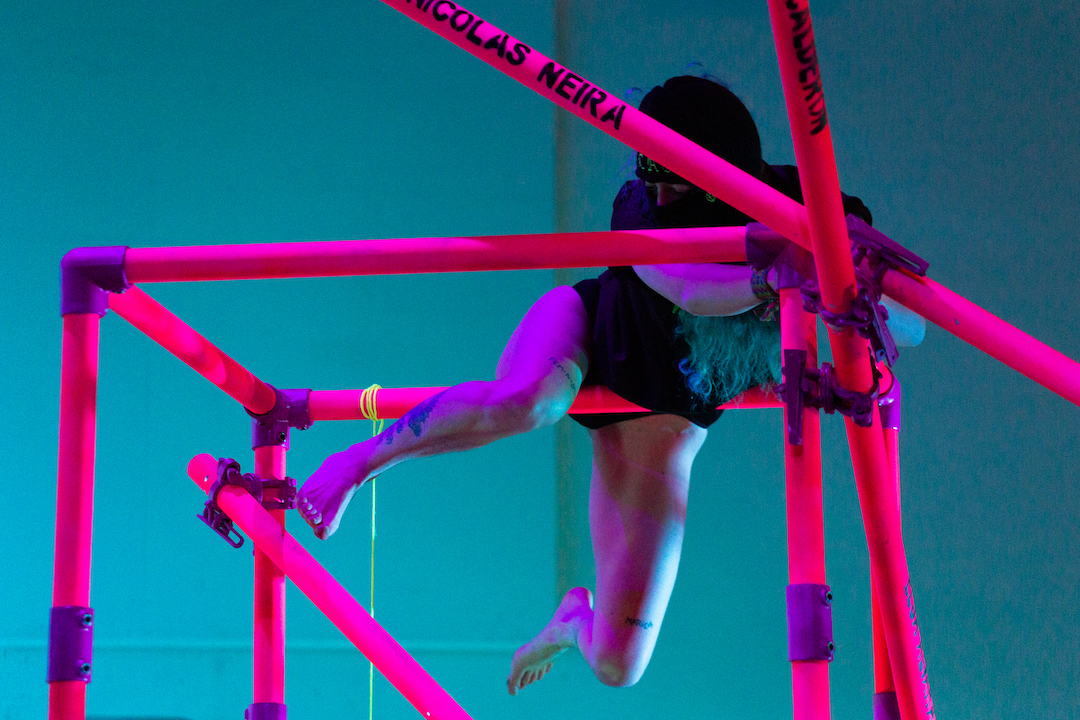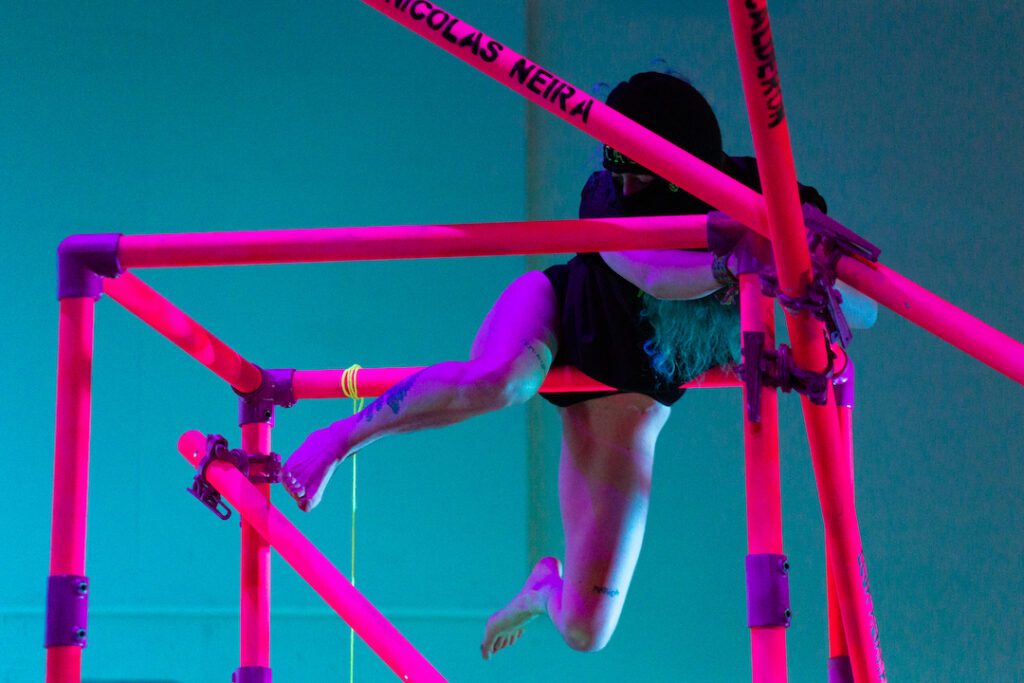 2019, House of Desaparecidxs, Performans, 60′
"House of Desaparecidxs" is a "homage to the armed fighters, workers, peasants, peoples, and organisations that have resisted a genocidal system, and proposed organised anti-capitalism as a form of activism needed for the emancipation of not only queer people but all those who are oppressed. Considering how 'queer' has developed in capitalism into a bourgeois frame of identity, Chaves Bonilla's performance was a powerful statement." – Maurício Ianêz, TQW Magazine
Topics: homage, resistance, re-storying, anti-capitalism, street art, ritual, politics of solidarity, coalition building, trans-generational dialogues, feminism, voice.
---
Paula Chaves Bonilla Fotoğraf: © Aad Hoogendoorn
Categories
Regions